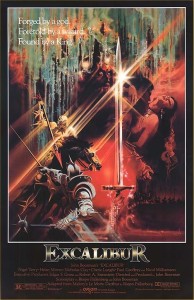 Excalibur (1981)
Merlin the magician helps Arthur Pendragon unite the Britons around the round table of Camelot even as forces conspire to tear it apart (IMDB)
John Boorman's alleged classic gets torn out of the stone we found it in. The long-awaited deep examination of the legend of King Arthur made cinema fare, Excalibur!
This movie stands pretty significantly in fantasy movie history, but does it stand the test of time? Will it be a unanimous success? Will we EVER find a movie to do from the 90s? These questions and more get answered in the next episode of DRAGONREEL!
Check out our Facebook page at facebook.com/dragonreel
Follow us on Twitter at twitter.com/dragonreel!

Loading ...
Get the movie before listening to the show: