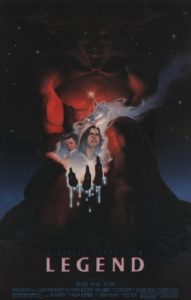 Legend (1985)
A young man must stop the Lord of Darkness from both destroying daylight and marrying the woman he loves. (IMDB)
Once upon a time, no one had even heard of Tom Cruise. So Hollywood wasn't sure what kind of a niche he could fill in their machine. Somehow he ended up in Legend, and cemented himself in fantasy movie history. Join Pete, Sharon, and Chris as we talk about the ins and outs of this nostalgic piece of cinema from our teen years.
This was Pete's choice, and the discussion surrounding the movie tells us why. Watch the movie and then join us, and see if you thought some of the same things we did.
If you enjoy the show, please go to iTunes and give us a good rating. It helps other people find us on iTunes. And share with your friends who enjoy podcasts. We would really love to hear from our listeners. email the show at dragonreelpodcast@gmail.com, or follow us on:

Loading ...
Get the movie before listening to the show: