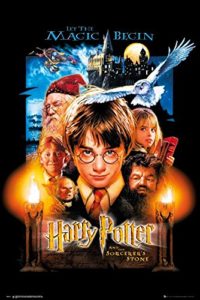 Harry Potter and the Sorcerer's Stone (2001)
An orphaned boy enrolled in a school of wizardry, where he learns the truth about himself, his family and the terrible evil that haunts the magical world. (IMDB)
What a fantastic episode this turned out to be!
Chris, Sharon and Pete are joined by Michelle Barrett Shea for this one shining gem of an episode. We had a lot of fun talking about the merits and flaws of this, our cinematic introduction to J. K. Rowling's Wizarding World. We all had some pretty strong opinions, and we hashed out a few theories and opinions. A very compelling episode. Listen with pleasure as you wingardium your leviosa!
How does this movie play a decade and a half after its release? Join the cast of DragonReel as we discuss every aspect you can fit in a one-hour show!

Loading ...
Get your copy today!