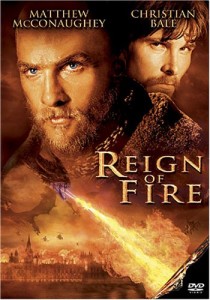 Reign of Fire (2002)
A clear fantasy that tries to kick a foot over the line with science fiction, Christian Bale and Matthew McConaughey trade witticisms and punches and tips for slaying dragons in this post-apocalyptic semi-classic.
We had a lot of good discussion on this one, and we all brought up some good points and made some good comparisons. Even the parts we didn't like were good for discussions.
"A brood of fire-breathing dragons emerges from the earth and begins setting fire to everything, establishing dominance over the planet." (IMDB)
Don't miss this DragonReel gem!

Loading ...
Get your copy and follow along at home: