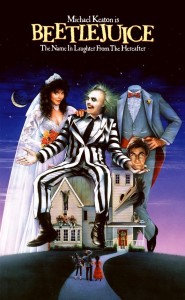 Beetlejuice (1988)
A couple of recently deceased ghosts contract the services of a "bio-exorcist" in order to remove the obnoxious new owners of their house. (IMDB)
Our special Halloween episode skirts a borderline horror/fantasy comedy that I'm sure we all know pretty well. We had our friend Calvin on to talk about one of his greatest loves, this movie.
In the course of the discussion, we all shared entirely new perspectives on this classic, so I think we all came away with ways to view it. Maybe you will, too.
Comment here, email us at dragonreelpodcast@gmail.com, or follow us on Facebook/Twitter. Don't forget to go to iTunes and give us a review!

Loading ...
Get your copy of the movie: