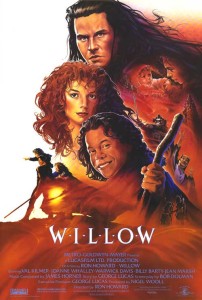 Willow (1988)
A reluctant dwarf must play a critical role in protecting a special baby from an evil queen. (IMDB)
Joining us from the Slice of SciFi podcast (and many many more), we have Summer Brooks on to talk about Willow. Funny thing about Willow. I dug around the internet to find a DVD copy to watch so we could do this one. For some reason, there's a DVD and a Blu-Ray that are both ludicrously expensive.
This episode delves into what went right and what went wrong with Willow. We all had a lot to say on this one. We ran a little long, but this conversation is worth hearing. Summer gave us quite a bit to think about on this one.
Check out Summer's regular podcast: Slice of SciFi!
Comment here, email us at dragonreelpodcast@gmail.com, or follow us on Facebook/Twitter. Don't forget to go to iTunes and give us a review!

Loading ...
Get your copy of Willow: