Princess Mononoke (1997)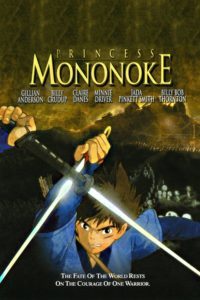 On a journey to find the cure for a Tatarigami's curse, Ashitaka finds himself in the middle of a war between the forest gods and Tatara, a mining colony. In this quest he also meets San, the Mononoke Hime. (IMDB)
Once again we are joined by noted author William Ray, who is kind enough to donate a copy of his book GEDLUND for us to give away as a prize in our first ever contest! Listen through the show to get details of the contest and how to win it.
We've done a few animated features, but none in the actual Japanese anime genre. We figured that a good place to start would be the name that made mainstream movie history. Miyazaki seemed the most sensible starting place for our foray into foreign film. We are, however, watching the English dub (except Pete who couldn't find it).
We're going to have a great time dissecting the film and finding out what translates to an English-speaking audience, and what works and what doesn't. The film has a huge following around the world, and while it didn't have the same impact as Spirited Away, it really broke ground in US cinema.
Join us as we discuss the ins and outs of putting your trust in nature gods and self-made industrialists.

Loading ...
Get William Ray's books on Amazon!

And get a copy of Princess Mononoke to watch with us!